The simple healthcare compliance software with baked-in legal analysis and expert tools
YouCompli is the only healthcare compliance software combining actionable, regulatory analysis with a simple SaaS workflow.
Our compliance experts distill the complex regulatory changes issued by every healthcare regulator into a straightforward action plan that is completed within YouCompli software. The software guides users through a simple workflow to assign, manage, and track the rollout and completion of regulatory requirements.
This one-two punch of intelligence and technology protects the whole organization and puts compliance officers at ease.
Regulatory Analysis
VALIDATED BY HORTY SPRINGER LLP
Other companies stop at automated feeds of regulatory source content. YouCompli enriches our primary research with legal analysis, digests of the practical implications, decision criteria for your organization, and model procedures to achieve compliance.
Workflow Software
EXPERTLY DESIGNED FOR SIMPLICITY
Competing software is a patchwork of acquired applications, cumbersome features, and unnecessary companion bundles. YouCompli is built from the ground up to simplify healthcare compliance, and we are singularly focused on that mission.
federal, state, local and MAC sources scanned daily
validated analysis, action items, and model procedures
healthcare compliance software to assign responsibility and oversee rollouts
to prove progress and share metrics with boards or regulators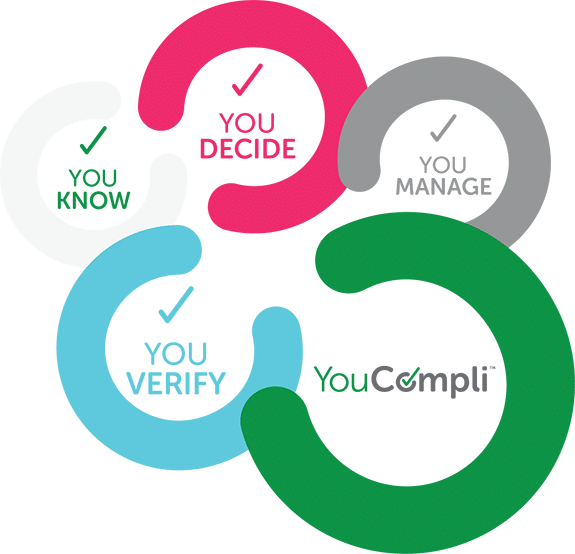 "YouCompli is like having a healthcare regulation expert on staff focused specifically on regulatory review and my organization's needs."
Prominent National Healthcare System
YouCompli healthcare compliance software resolves the daily struggles of compliance officers.
Within 5 days, on average, we deliver all the tools our clients need to respond to a new regulation.
YouCompli requires only 15-minutes of training to get started.
YouCompli costs less per day, per user, than a cup of coffee.
Our analysis team is comprised of 8+ full-time lawyers and compliance pros.
Our software team has maintained ISO 9001 certification for 10+ years.
We support 2,400+ medical facilities and nearly 30,000 patient beds across the US.
Interested in learning more?
Let us know how to reach you and one of our team members will contact you within one business day.