We made complying with new regulations
The healthcare compliance management system in a class all its own
Chances are that your days are spent reading through an endless stream of regulations. You might not even realize some are irrelevant to your organization. When you find one that does matter, how will you determine what needs to be done? Who will create the policies and procedures to support it? If you delegate those responsibilities to colleagues, how will you know they picked up the ball? And how will you confidently report progress to your regulators or the Board?
That's why you need YouCompli. We developed the one-of-a-kind healthcare compliance management system that makes this work as simple as possible. Our clients are empowered to quickly and confidently respond to regulatory changes, and they can easily prove they've fulfilled their obligations.
Why YouCompli for healthcare compliance?
Meet Jerry Shafran, Founder and CEO of YouCompli. This short video highlights his reasons for developing this compliance management system for healthcare organizations.
Intelligence-driven software
We combine people-driven intelligence with a technology-driven workflow
YouCompli is the only company that tackles the healthcare compliance burden from both sides: Knowing what to do and getting the work done. Our unique SaaS solution combines regulatory analysis from our compliance experts within a compliance workflow designed by our software engineers. This bilateral healthcare compliance management system brings unprecedented simplicity to healthcare organizations across the United States.
YouCompli is more than just a regulatory feed
Other companies stop at automated feeds of regulatory source content. YouCompli enriches our primary research with regulatory analysis, digests of the practical implications, decision criteria for your organization, and model procedures to achieve compliance.
Quality software based on YouCompli's Compliance Lifecycle Methodology
Before writing a single line of code for our healthcare compliance management system, our team developed the Compliance Lifecycle Methodology (CLM) to guide product development and to align our solution with the OIG's 7 Elements of an Effective Compliance Program.
Identify and document new regulations
Assess relevance
Translate into the activities required to comply
Communicate requirements to stakeholders
Execute activities required to comply
Monitor and verify that required activities are completed
Demonstrate the actions taken within the CLM
This simple Compliance Lifecycle Methodology is automated within YouCompli's regulatory workflow software, yielding unprecedented confidence in compliance.
Affordable and easy solution
Software that is expertly designed for simplicity
Competing software is a patchwork of acquired and semi-integrated applications, cumbersome features, and unnecessary companion bundles. In contrast and following our strategic methodology, YouCompli is a purpose-built healthcare compliance management system.
And it's easy to use. YouCompli requires only 15 minutes of training to get started, and we provide complimentary training classes several times a week.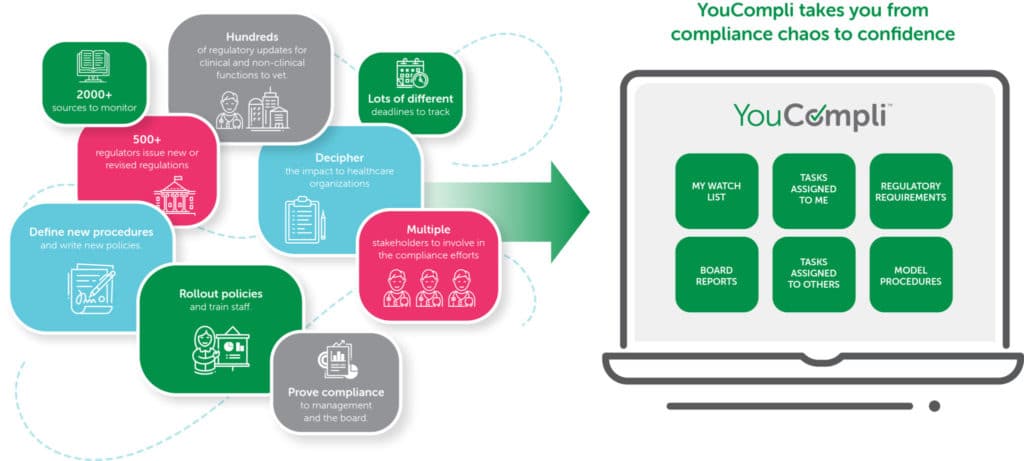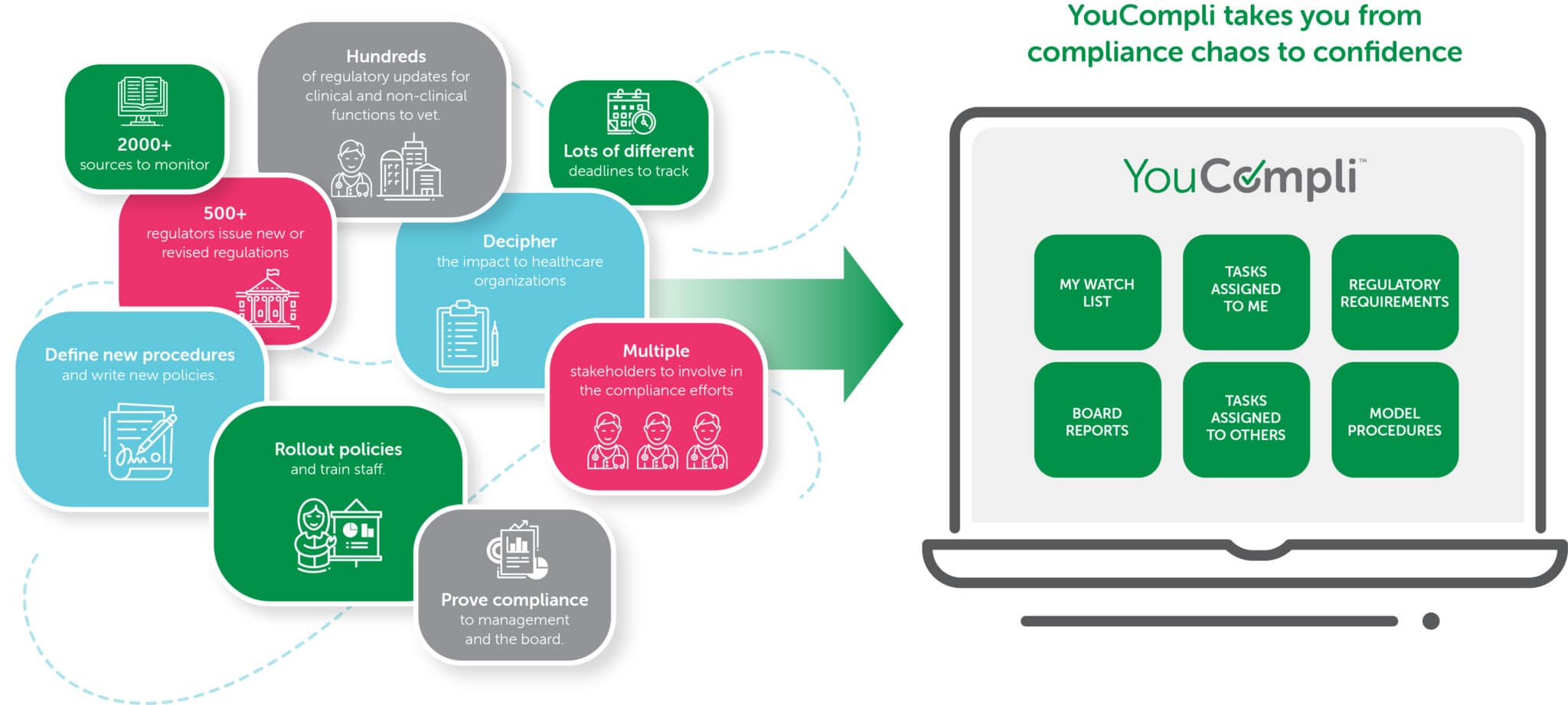 Straight-forward, affordable pricing
We believe that price should never be an obstacle to managing regulations efficiently. Whether you are just getting a compliance program off the ground, or you are improving an existing program, our flexible model delivers extraordinary value to organizations large and small.
YouCompli is offered on a monthly subscription. All plans include access to YouCompli's regulatory analysis and our regulatory workflow software for an unlimited number of users. Every plan is fully customizable to your organization and your regulatory concerns, so you get everything you need and nothing you don't. And while there's no long-term contracts, our clients stick around. Maybe that's because YouCompli costs less per day, per user, than a cup of coffee.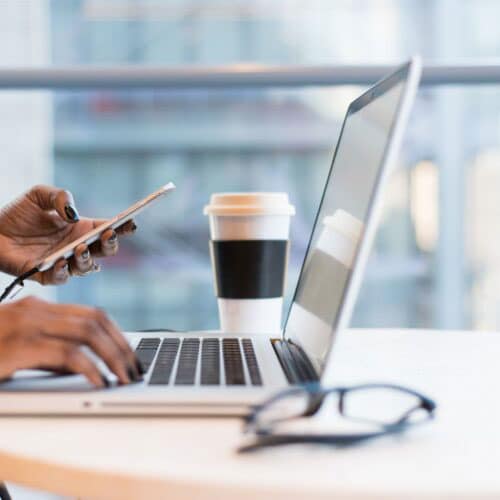 Proven approach you can trust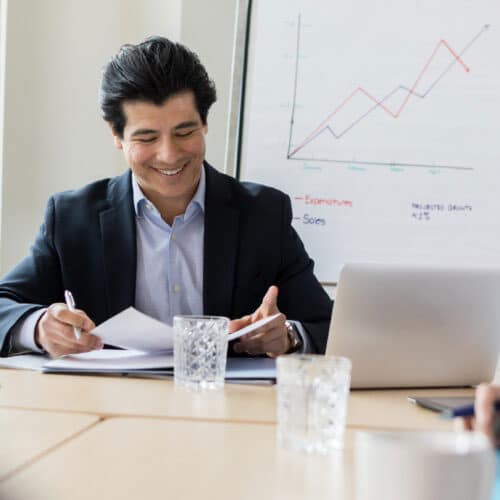 We have a history of moving clients from compliance chaos to confidence
YouCompli was founded in 2016 by serial entrepreneur Jerry Shafran. Having just sold a business that revolutionized how insurance companies manage compliance, Jerry was inspired to bring that same expertise to the healthcare field.
Our early market research revealed that US hospitals needed a bit of guidance with respect to regulatory responsibilities – not to mention the need for a consistent compliance process. That's when the value of the Compliance Lifecycle Methodology, fueled by people-driven intelligence and a technology-driven workflow, became apparent. So, we redefined the concept of "software as a service" by enriching our healthcare compliance software with daily regulatory analysis from our in-house compliance professionals and lawyers. The result is a SaaS-based healthcare compliance management system to eradicate the chaos that typically plagues compliance teams.
YouCompli monitors all federal, state, and local regulations, translates them into clear business terms and procedures, and equips compliance officers to manage and track the whole process, from end to end. Today, this ingenious blend of intelligence and technology empowers more than 2,400+ medical facilities to confidently implement their regulatory requirements and prove their compliance fitness.
"Our purchasing committee evaluated several compliance products and quickly discovered that YouCompli is in a class all its own. Nobody else combines the professional research and work product of compliance experts with simple software to get the work done."