Four approaches to remain calm during stressful times
Jay Anstine is a compliance professional and consultant in Colorado. He writes on compliance culture for the YouCompli blog. This post looks at the power of staying calm during stressful times in order to maintain support for your compliance program.
We need to talk about regulation. No, not regulations. Regulation. As in, can you regulate your nervous system so you can stay calm in a crisis, when everyone else might be panicking?
There is no shortage of opportunities to lose our cool in healthcare compliance. Investigations into high-risk issues like drug diversion, coordinating a response to a regulatory change or responding to a government investigation all get people's hearts pumping fast. That can lead to murky thinking, flared tempers, and unproductive trips down rabbit holes.
This behavior leads to "second-hand stress." That is, the issue itself is stressful, but how leaders react to the issue can create additional stress that is felt by others. Think about a time when you saw a speaker experience technical difficulties like feedback from a microphone. The piercing noise is bad enough. But if the speaker fumbles around for a solution or starts yelling at the AV team in the back – then you start to feel anxious. You might lose confidence in the speaker or resent his berating behavior.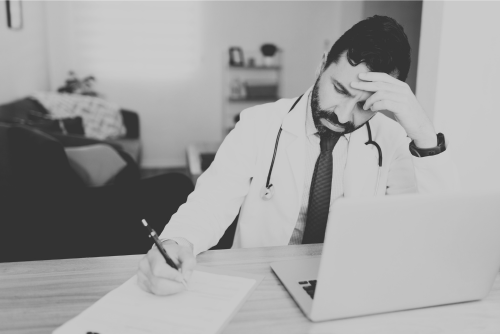 What does that additional stress do when it shows up in your organization? Nothing good. At best it's distracting and leaves a bad taste when people think about issues that Compliance leads. At worst, it sidetracks your response to a crisis and puts the organization at even greater risk.
I've learned not to join my colleagues in their frustration or outsized reactions. I find that when healthcare leaders come to us with a high-risk issue to resolve, they are functioning in a state of uncertainty and may already feel very anxious. Me piling on to the anxiousness won't help anyone. Instead, my aim is to show up as a problem-solver, someone who can lead the organization out of a mess. Compliance officers can add a lot of value by simply showing up to solve problems. To do that we have to model a calming presence and build confidence that the issue will be resolved.
So how do you maintain a calming presence during stressful times? First, take a deep breath and make sure you're physically and mentally ready to lead calmly. Then, follow these four approaches. They have helped me greatly over the years.
1. Assess the Threat
When faced with a high-risk issue, the first thing to do is to assess the threat. At this stage, your focus should be on the big picture, considering questions such as:
What is the risk to patient care?
What is the risk to the organization from a compliance and reputational standpoint?
Does this appear to be accidental or intentional?
Does this appear to be an isolated incident or a pattern of behavior?
Additionally, as part of your threat assessment, consider whether you or a colleague has seen something like this before. If so, there may be prior experience you can tap into to decide how to respond. This can help you remove some of the uncertainty as you map out next steps.
So, what if this situation is unique, and there is no prior experience or other resources to draw from? If that's the case, then these next approaches can help you.
2. Focus on the Facts—not Opinions or Assumptions
Another way to maintain a calming presence during stressful times is to focus your attention on facts and not opinions or assumptions. That is true whether the opinions or assumptions are coming from you or someone else.
At a very basic level, when it comes to making decisions, we do so based on the information we have available to us. When confronted with responding to a perceived crisis, you have to be able to determine what information is based on fact (i.e., verifiable) and what information is based on someone's personal feelings. One way to ensure you are focusing on the facts is to ask yourself, "Is this conclusion supported by facts or personal opinion?"
As you are gathering your facts, be mindful about how you are asking questions. For example, if you are asking a leading question ("Isn't it true that…"), it's going to feel like you're cross-examining people. Taking such an approach would only add to their stress and anxiety. Instead, you want to frame your questions from a place of curiosity, not judgment. Some examples of the types of questions you could ask include the following:
"I am not familiar with X; please help me understand what you mean when you say X."
"X is an area outside of my expertise; can you tell me what X means?"
"To make sure we are on the same page, can you explain X to me like you would to someone off the street?"
When you take a curiosity approach, it demonstrates your thoughtfulness to a particular situation which can lower the stress and anxiety others feel.
3. Focus on what you can control and don't take ownership for what you can't control
Another way to maintain a calming presence during a time of perceived crisis is to focus on what you can control and avoid taking ownership for what you can't control. When it comes to responding to an identified compliance issue, one way to maintain that perspective is to focus on the present and the future rather than the past. For example, if one of your healthcare leaders has entered into a business arrangement that turns out to violate a regulation, that's a business decision that was made in the past. You can't control that because you can't undo what's been done. Also, that was a business decision that was not yours to make.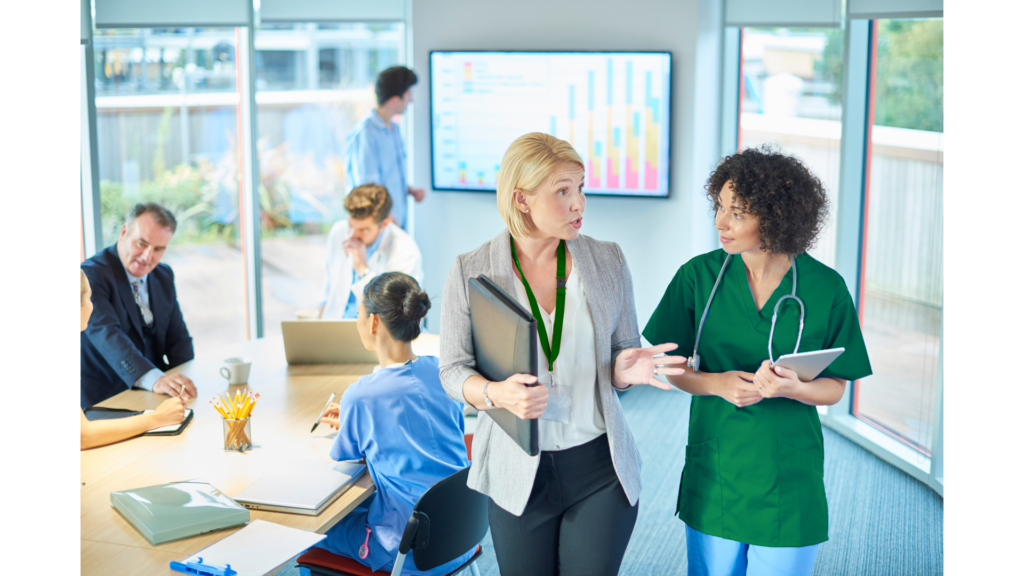 Instead, your focus should be on what you can control and on the business decisions ahead of you. More specifically, work on navigating the organization to resolve the issue and take steps to prevent a future occurrence.
The government recognizes regulatory violations will occur and compliance officers can't be everywhere. That said, once an issue is identified, the government does expect the organization to address them and take steps to prevent future occurrences.
Keeping your focus on the present and the future will help you demonstrate a calming presence through your interactions with others as you are resolving the situation.
4. Focus on the Process
With any high-risk issue, it's "the unknown" that probably scares us the most. That in part is due to the trap that people can fall into with assumptions and opinions that I mentioned above.
When something has gone wrong, it is natural for our mind to shift to a never-ending list of "What ifs" (e.g., What if a government investigation or audit gets triggered from this issue?). If you want to maintain a calming presence you must avoid falling into the "What if" trap. Instead, focus on resolving the issue.
How do you do that?
By keeping the big picture in mind as you resolve the issue. That means identifying the necessary steps up-front. For example, when an issue first gets reported to you, don't jump to problem solving. That comes later. Instead, this is the time to gather information and think about questions such as:
What questions do you need to answer to resolve?
What information do you need to resolve?
Who has this information?
Who needs to be consulted and who needs to be informed?
What are going to be your next steps to bring about resolution?
Having a big picture perspective identifies what is most important to focus on and when it is important to focus on it. This helps you determine what is a true priority, which can aid you in demonstrating a calming presence.
Calming Presence, Culture of Compliance
As compliance officers, we are tasked with developing and maintaining a healthy culture of compliance in our organizations. In my opinion a healthy culture of compliance is one that makes others want to participate, meaning they want to report in issues or ask questions. It's also an environment that makes the employees want to tell others to participate.
If that is a culture you want, then you need to take steps to avoid creating an environment of second-hand stress because that type of environment doesn't make others want to participate. It makes them not want to ask questions or speak up. Even worse, it makes them want to tell others to do the same.
To counteract an environment of second-hand stress, you need to create a calming presence with how you respond to an identified compliance concern. To create a calming presence, develop your skills at self-regulating your emotions. This includes assessing your threat, focusing on facts, focusing on the present and future, and staying focused on what your next move is going to be.
A culture of compliance is critical to effective regulatory change management. YouCompli can enable your collaboration with compliance champions and free your time to focus on relationships and communications. Take a look at our regulatory change management solution today.
Don't miss an article about healthcare compliance culture
If you haven't already, please sign-up for weekly emails from YouCompli. We never sell your information.

Jay P. Anstine, JD
Jay is a compliance professional and consultant in Colorado. Jay is a healthcare lawyer with significant industry knowledge of the U.S. healthcare market. Over the past 20 years, he has worked for large for-profit and non-profit health systems and small physician-owned entities. In tackling the countless regulatory and operational issues for these diverse organization types, he has developed a deep understanding of the business of healthcare and the regulations governing the industry. In 2018, Jay became an adjunct faculty member with the University of Southern California, Gould School of Law, designing and teaching healthcare compliance courses.
Jay obtained his law degree from the University of South Dakota, where he focused on healthcare law. From 2012-2016, he served on the Board of a non-profit organization serving the medically underserved in Colorado (ClinicNET). He is also a member of the Health Care Compliance Association (HCCA), serving on the planning committee for the Mountain Regional Conference since 2008. He is writing a series of articles on compliance culture for the YouCompli blog. This post looks at building trust among your colleagues. This post looks at measuring your organization's culture of compliance.