YouCompli is pleased to announce that Shawn Y. DeGroot has joined us as the inaugural member of our advisory board.
Shawn will work with founder Jerry Shafran and his team to guide the ongoing development and delivery of the YouCompli healthcare compliance solution.
"We are thrilled and grateful to have Shawn join our advisory board," Shafran said. "Her healthcare compliance expertise will help us ensure we deliver a system that solves our customers' most pressing regulatory change management problems. Shawn's leadership will help shape the composition and focus of the advisory board as it grows over time."
DeGroot is president of Compliance Vitals, providing consulting services for clients in need of practical guidance in a complex healthcare regulatory environment. She also serves as an advisor to the president of SunHawk Consulting and is a past president of the Health Care Compliance Association (HCCA) and the Society of Corporate Compliance and Ethics (SCCE). She is a Certified Healthcare Compliance Fellow (CHC-F), Certified in Healthcare Privacy Compliance (CHPC), Certified in Healthcare Research Compliance (CHRC) and a Certified Compliance and Ethics Professional (CCEP).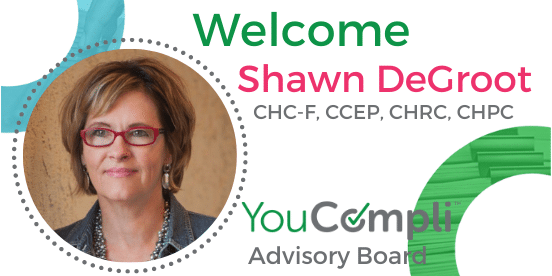 "The work YouCompli is performing to simplify regulatory management in healthcare organizations is a game-changer for compliance professionals," DeGroot said. "Federal and state regulations can be complex. To effectively reduce risk, we need to make a paradigm shift from reactive to proactive program implementation when new rules are proposed, modified and published. YouCompli removes the guesswork from monitoring and analyzing applicable regs. That gives compliance professionals more time to shape the organizational culture, enhance effective compliance program implementation, and elevate the overall integrity of the organization."
About YouCompli
YouCompli is the only healthcare compliance solution combining actionable, legal and operational regulatory analysis with a simple SaaS workflow. Our compliance experts distill the complex regulatory changes issued by every healthcare regulator into a straightforward action plan that is completed within YouCompli software. The software guides users through a simple workflow to assign, manage, and track the rollout and completion of applicable regulatory requirements.
This one-two punch of intelligence and technology protects the whole organization and puts compliance officers at ease.