Approximately 65 million Americans are enrolled in Medicare – about 34 million in traditional Medicare and the rest in Medicare Advantage. Traditional Medicare is administered by the federal government, and individuals pay a separate monthly premium for hospital visits, doctors/outpatient, and prescription drugs. In contrast, Medicare Advantage is provided through a private health plan and typically covers everything in one monthly premium.
It is expected that Medicare Advantage will soon represent more than 50% of all Medicare enrollees, and that this percentage will continue to increase in the coming years. This is a major shift in coverage patterns – and with it comes a shift in compliance scrutiny as well.
Examples of Possible Fraud, Waste, and Abuse
Christi Grimm, the Inspector General of HHS, commented on this trend in a recent keynote address to compliance professionals. She said, "The expansion of managed care, especially over the last decade, has come with growing pains that have strained program integrity and highlighted compliance weaknesses. OIG's audits, evaluations, and investigations have demonstrated that risks of fraud, waste, and abuse in managed care are real and significant." Later in her speech, she summed up the major risk in this area: "Simply put, the financial incentives created by risk adjustment may be driving upcoding in the severity of diagnoses to garner additional payments."
This upcoding has been at the center of many recent enforcement actions and settlements. For example, in July 2023, a health care organization in Portland, Maine, agreed to pay $22,485,000 to resolve allegations that it violated the False Claims Act. It was alleged this organization submitted inaccurate diagnosis codes for its Medicare Advantage Plan enrollees, in order to increase reimbursements from Medicare. The allegations were initially brought to the government's attention by a whistleblower – a former manager in the organization's risk adjustment operations group. The government alleged the organization engaged in chart reviews of their Medicare Advantage beneficiaries to identify additional diagnosis codes that had not been submitted to Medicare. According to the government, many of the additional codes submitted were not properly supported by the patients' medical records. They accused the organization of submitting the unsupported diagnosis codes, which resulted in higher payments from CMS.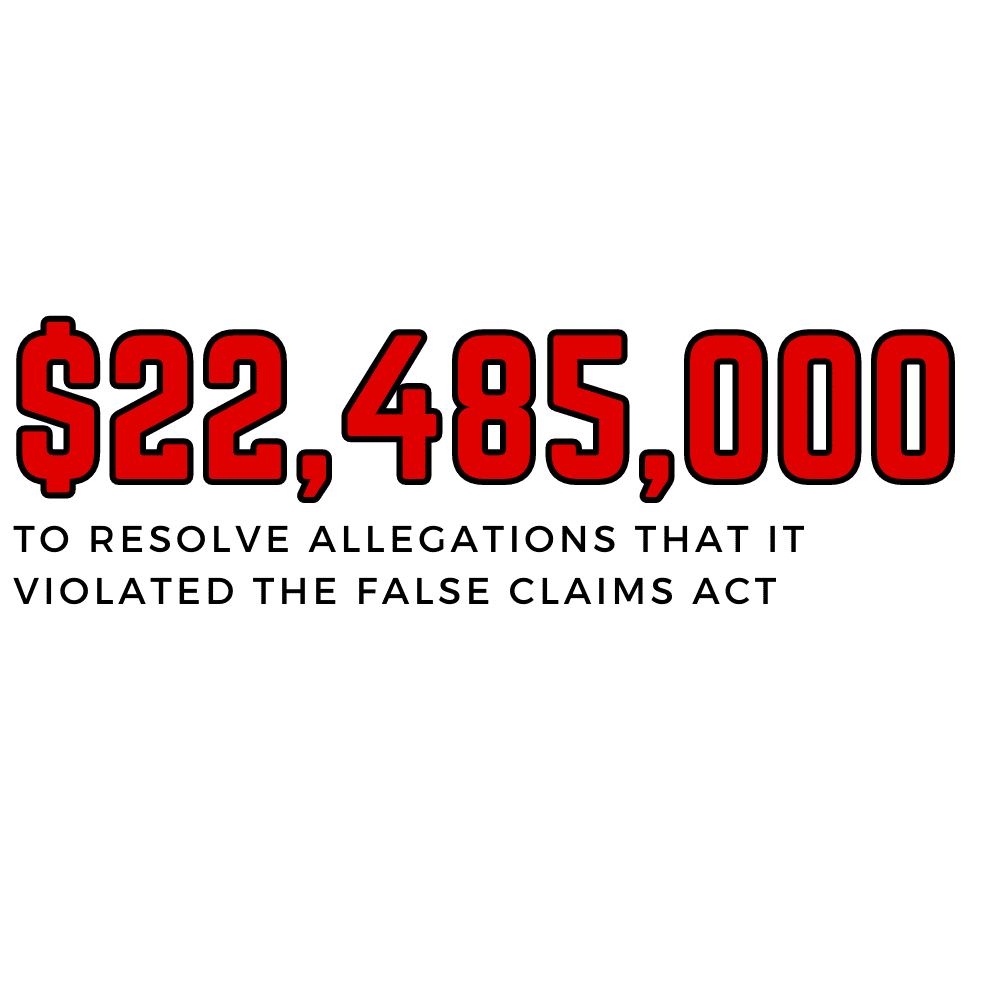 Some outside of the payor world often overlook this kind of settlement because an insurance company is affected, not a clinical provider. However, there is also enforcement in the provider space. For example, a medical group and one of its physicians agreed to pay $5,039,180 to resolve allegations that they reported invalid diagnoses to Medicare Advantage plans and thereby caused those plans to receive inflated payments. In this case, several Medicare Advantage Organizations (MAOs) in California contracted with the medical group to provide health care to those in their plans. The MAOs often compensated the medical group with a share of the payments the MAOs received from Medicare. Thus, the medical group had a financial incentive to submit additional diagnosis codes to the MAOs to increase the payments that the MAOs received from Medicare. The allegations in this case were also initially brought forth by a whistleblower – a physician who was a former employee of the medical group.
The U.S. Department of Health and Human Services Office of Inspector General (OIG) has been performing many audits related to upcoding of diagnosis codes. There are thousands of diagnosis codes, and they are looking for the riskiest ones so they can include them in their focused audits. According to multiple recent OIG audit reports, some of the most common incorrectly submitted diagnosis codes are for:
Acute Stroke
Acute Myocardial Infarction
Embolism
Lung Cancer
Breast Cancer
Colon Cancer
Prostate Cancer
Major Depressive Disorder
Vascular Claudication
In another review performed by the OIG, mental health conditions were identified as an area of risk. The OIG looked at 20 insurance companies that received $5 billion in risk-adjustment payments. More than $500 million of those payments were for patients that plans had diagnosed as having serious mental illness, such as major depressive, bipolar, and paranoid disorders. Yet no service records showed those same enrollees had received treatment for these serious conditions.
The OIG concluded, "This is a troubling gap for these patients and for the health care professionals that care for them. If plans have information about an enrollee's health status, health care professionals should have this information to ensure appropriate care can be provided. Or if the diagnoses do not reflect unmet needs, then equally troubling is the accuracy of the diagnoses and why they were reported in the first place."
Ensuring Compliance
What should compliance professionals be doing to ensure proper operations and compliance with everything regarding Medicare Advantage? The main thing to do is to proactively audit and monitor medical records of Medicare Advantage patients. They could begin with identifying patients who have been coded with one of the conditions in the list above. If the documentation does not support the reported codes, find out why. If corrections need to be made, ensure they are properly addressed.
Medicare Advantage appears to be here to stay. Enrollment numbers keep increasing, and as they do compliance risks go up as well. The primary cause of the risk is the financial incentive created by risk adjustment, which may lead to upcoding in the severity of diagnoses to garner additional payments from Medicare. By reviewing the details of the enforcement actions and audits discussed, compliance professionals can identify the patient types and diagnosis codes they should proactively audit and monitor.
YouCompli can streamline your regulatory change management efforts to give you time back to collaborate with colleagues and connect with front-line staff. help free you from reading and monitoring regulations . Take a look at our regulatory change management solution today.  
Qualified compliance professionals do the heavy lifting for you, simplifying regulatory change management  
Our in-house team works tirelessly to monitor US regulators, carefully read the regulations in their entirety, and translate the information into simple regulatory intelligence you can use. We deliver model procedures and expert tools that can be used to fulfill your business requirements. Everything is validated by a third-party law firm.  
Get the latest from healthcare compliance experts 
Never miss an article from CJ Wolf. Sign up for YouCompli's weekly email if you haven't already.   
CJ Wolf, MD, M.Ed. is a healthcare compliance professional with over 22 years of experience in healthcare economics, revenue cycle, coding, billing, and healthcare compliance. He has worked for Intermountain Healthcare, the University of Texas MD Anderson Cancer Center, the University of Texas System, an international medical device company and a healthcare compliance software start up. Currently, Dr. Wolf teaches and provides private healthcare compliance and coding consulting services as well as training.